Wrangler® Catches up with Georgia May Jagger to Talk Jeans and Style Inspiration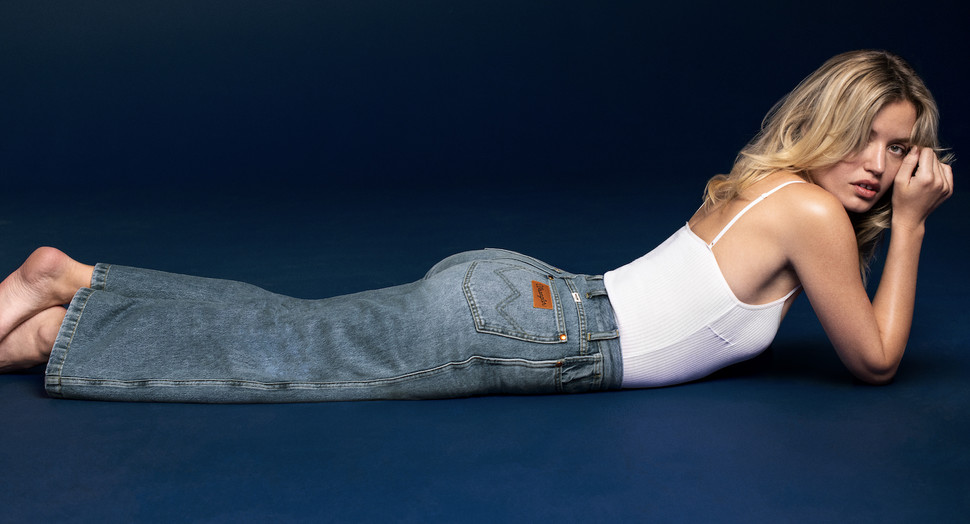 In March, Wrangler introduced Georgia May Jagger as the face of its Women's Heritage Collection. The brand recently caught up with the fashion model and designer to talk about how the new collection stays true to her personal style.
Wrangler: How does it feel being the face of Wrangler's Heritage Fits?
GMJ: I've loved the Wrangler brand my whole life. All the women in my family wore Wrangler, so it's really such an honour to be the face of Wrangler's Heritage Fits.
What drew you to Wrangler?
"My Mum always wore Wrangler jeans when I was growing up. Every time I go back to Texas, I go to the boot barn and buy Wrangler jeans like my Mum used to. And my Aunt Cindy is a rodeo champion, she used to wear her Wranglers so tight that my Mum and my other aunts would have to help her get into them sometimes using a coat hanger to close the zip, ha."
What role does denim play in your life and style?
"I have two pairs of Wrangler jeans that I cut off into shorts and they have been traveling with me for 14 years. Denim can last generations, and you can never go wrong with your favourite pair of jeans, or your favourite denim jacket."
What is the one denim piece every woman should have in her wardrobe?
"A good pair of blue jeans."
To which Wrangler Heritage fit are you drawn?
"I love the Wrangler Westward 626 high rise boot cut jean."
How do you like to style your Wrangler jeans?
"I like to wear them with a cute blouse and heels if I'm going out at night, or during the day with a plain white tee and a cute bomber jacket."
What does Western style mean to you?
"It feels like home. I'm half-Texan - my Texan family would wear Western style clothes which has always influenced my style. We live in jeans and plaid shirts."
You're vocal on social media about the environment. Why is sustainability so important to you?
"We only have one planet and one ocean and we need to protect it. I believe it's all connected. It's the air we breathe, the water we drink and the food we eat. We must protect it for future generations. I work with Project Zero an ocean conservation charity and WWF. I think we get very caught up in material things we forget that nature gives us everything we need."
How do you feel about this collection going global and reaching women all over the world?
"I feel so happy that Wrangler is going global. I always wore Wrangler's growing up in the UK. There's a style for every kind of woman and they are very gender neutral I like to wear the men's jeans too."
What did you love about the fit of the jeans you wore for the Wrangler shoot?
"The great thing about Wrangler's is they have the perfect fit but they are still comfortable - that's why they are a classic. They are made to be able to ride horses in so you can really move in them and that's why I love them so much."
How would you describe your style?
"It's always changing, but I would say I'm a feminine tomboy. I love to wear jeans and boots but I also love putting on a dress and lipstick."
Who is your style inspiration?
"My Mum. Her style is so timeless. I love that she doesn't take herself too seriously and when she loves something it stays with her for life. She's not worried about trends - just what makes her feel good."
What does great style mean to you?
"Great style is individual - it's what makes you happy. I love people who experiment with style and don't worry about what other people think."
You can follow Georgia May Jagger on Instagram and shop the collection at Wrangler.com and select retail locations across the globe.