Wrangler® Becomes the Official Jeans of the Dallas Cowboys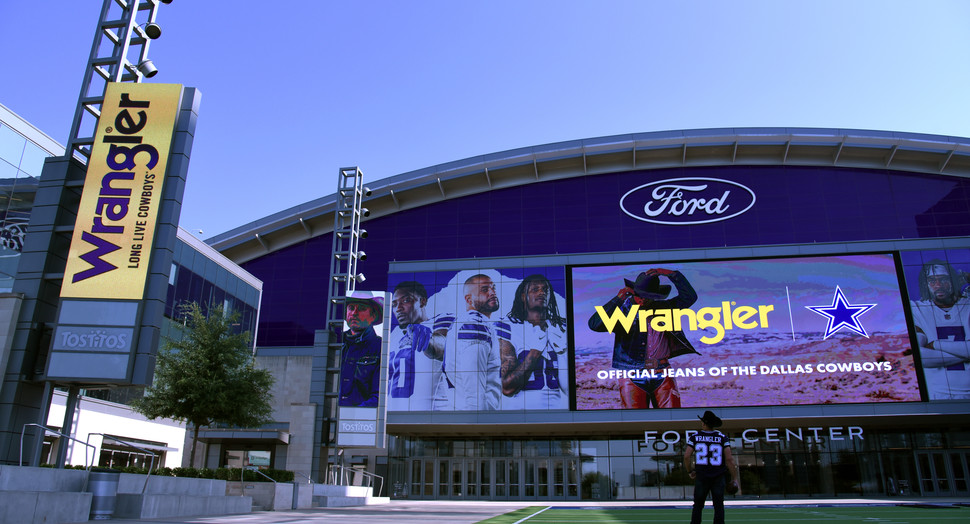 An exclusive sponsorship of "America's Team" doubles down on the denim brand's western ethos and signature catchphrase: Long Live Cowboys™
August 1, 2023 (Greensboro, N.C.) — Long known as the denim brand 'made by cowboys for cowboys,' Wrangler® is giving new meaning to that mantra, announcing today its new multi-year sponsorship agreement with the Dallas Cowboys. Prominently activated onsite at AT&T Stadium and amplified via television, radio and social media, the sponsorship pays homage to Wrangler's deep roots in Texas and makes the global denim brand the official jeans of one of the most recognizable and influential football teams in America.
"This sponsorship celebrates a deep authentic connection between two time-honored American icons," says Allen Montgomery, vice president & general manager of Wrangler western. "At Wrangler, we have carefully cultivated a 75-year-old legacy in sports and Texas is the heartland of our brand's western culture. We are really honored to officially work with the Dallas Cowboys, particularly as they embody our western character, brand values and rich Texas-sized grit."
Plans to support the 2023-2024 Dallas Cowboys season include celebrations of cowboy culture through activations at AT&T Stadium, through social content featuring Dallas Cowboys players, cheerleaders and the Flag Team; as well as in-store promotions on Wrangler products in Texas-based retail locations on Wednesdays all season long.
"The ethos of the Wrangler brand is already inherently embedded in the lifestyle of Cowboys players and fans. It is clear we are simply honoring a shared bond and mutual fandom displayed inside and outside our stadium for years," says John Hickman, vice president of business development for the Dallas Cowboys. "It is going to be fun to watch the fans embrace this sponsorship by one of denim's most iconic brands."
The sponsorship will also include a free, monthly summer concert series, "Sounds of the Star presented by Wrangler," at The Star in Frisco - Dallas Cowboys World Headquarters, along with pop-up donations and community activations.
Cowboys fans looking to elevate their game-day style can shop for Wrangler denim in retail locations across Texas or online at Wrangler.com, and can follow @wrangler to stay up-to-date on the latest Dallas Cowboys content.
About Wrangler®
Wrangler®, of Kontoor Brands (NYSE: KTB), has been an icon in authentic American style for 75 years. With a rich legacy rooted in the Western lifestyle, Wrangler is committed to offering superior quality and timeless design. Its collections for men, women, and children look and feel great, inspiring all those who wear them to be strong and ready for everyday life. Wrangler is available in retail stores worldwide, including flagship stores in Fort Worth and Greensboro, department stores, mass-market retailers, specialty shops, top western outfitters, and online. For more information, visit Wrangler.com.